It's time to take a closer look at how you care for your carpets. Our Monthly Carpet Care Service will help maintain the quality, look and feel of your carpet.
The experienced experts at CW Flooring Unlimited will design and tailor a maintenance program to suit your individual maintenance needs utilizing the following three steps.
STEP 1: Preventive Maintenance Tips and Suggestions
Walk-Off Mats
Help collect soil before it can be tracked throughout the building. The mats should be long enough to allow at least four steps across. Vacuum daily, clean frequently and change often.
Designated Eating, Drinking and Smoking Areas
By restricting these activities to a limited area, you can help confine problem soiling.
Regular Vacuuming
Effective, regular vacuuming is the most important preventative maintenance procedure. Proper vacuuming removes soil so that it is not spread to other carpet areas.
STEP 2: Management of Carpet Appearance
Maintenance Programs will extend the life of your carpet investment by using a thorough maintenance program established to protect against the enemies of your carpet… dirt, pollution, grease and stains!
Cleaning Frequency
In the past, carpet was cleaned when the appearance was poor. Our planned maintenance programs stop the cycle of carpet wear out and premature carpet replacement.
Certified Inspection of Your Facility
Our certified, expert, carpet management specialist will inspect your carpet. They will develop a color coded floor plan, designating traffic patterns including heavily soiled areas, lunch rooms, break areas, freight elevators, coffee stations, main lobbies and offices.
STEP 3: Planned & Scheduled Programs
Vacuuming
A well planned and consistent schedule of vacuuming is essential to any carpet maintenance program. Vacuuming frequency should be broken down by high, medium and low traffic areas.
Carpet Cleaning
Interim low moisture carpet cleaning methods will be used at regularly scheduled intervals. The frequency will depend on traffic and soiling levels. Restorative cleaning will also be programmed to deep clean the carpet using hot water extraction cleaning.
Before & After Photos
Grout Restoration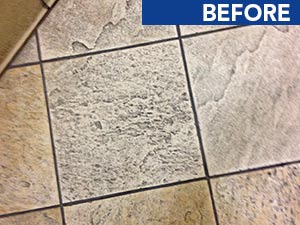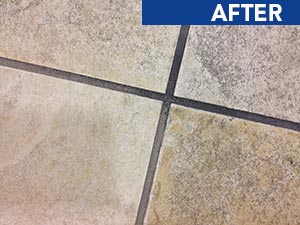 Stripping & Waxing