CW Flooring Unlimited can supply virtually every mat type, size and color available nationwide. Below are some popular samples of our hundreds of possibilities. Contact us for our full product line.
Image Logo Mats
Hundreds of styles in 20 colors, all of which can be customized with your unique logo.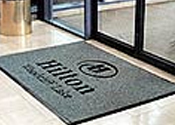 Custom logo mats are widely used by businesses to send a message or advertise a brand name on the first place people look when they enter a building. They provide an instant greeting and make a strong first impression on customers and clients, promoting brand recognition in the minds of their consumers. Creative logo placement is just one of the wayscompanies can use custom made mats to enhance their business operation.Quality floor mats also go a long way toward improving indoor air quality. Studies have shown that most toxic chemicals that end up inside a building are tracked in on people's shoes. A well-used door mat can trap and hold dirt and allergens, preventing their spread into the rest of the building, significantly improving the indoor air quality.
---
Entrance Mats
What type of impression does your entryway make? For dozens of attractive, functional entrance mat options, contact us today!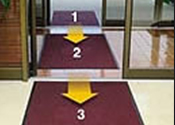 Entrance mats are an effective technique for preventing the spread of dirt and germs into a business. Especially in buildings with carpet, entrance mats are a cost-effective way to insure clean floors with less need for extensive spot treatments. Entrance mats are also an effective way to prevent accidents. Non-slip safety mats are used to prevent water being tracked in and causing accidents from slips and falls, protecting a business's liability should an injury occur. High-quality mats should be used in both the exterior and interior of entranceways to scrape away and prevent tracking in mud, snow, and water. Exterior mats are typically non-backed, which allows for the dirt and liquid to flow through the mat and be cleaned up later. Interior mats can be used to dry the bottom of the shoe and may be backed with rubber or other materials to prevent moisture from damaging floors.Entrance mats are available in a vast array of colors, styles, and materials.
---
Scraper Mats
Visitors will like the look-you'll admire the muscle.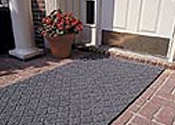 Keep your floor sparkling. High-performance, vinyl loop scraper mats have an attractive diamond-pattern surface that removes dirt, while filtering moisture away. Compare prices, weights and warranties – you'll find Crown's Diamond Deluxe is one of the best values available today.
Foam backing traps and hides moisture and grit so your floors stay cleaner.
Embossed top surface is easy to clean.
Crimped ends available on foam-backed mats.
Choose the mat that matches your volume of foot traffic and budget. Foam-backed mats are available in 3 weights.
Unbacked mats in two weights.
Color-coordinated edging available.
---
Wiper Mats
Keep your entrance clean, dry and colorful with Wiper Mats.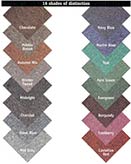 Crown-Jewel Olefins dry three times faster than nylon or polyester. These dense, cut pile, 3300 denier olefins give you maximum absorbency.
Choose from 16 colors to complement any decor.
These mats are extremely absorbent and hold up to a gallon of water per square yard. ReLy-On Olefin holds up to 3/4 of a gallon.
Crown's olefin yarn is solution-dyed for bright, long-lasting color and superior stain resistance.
Vinyl backing anchors mat securely for minimal slipping or skidding.
---
Recessed Well Mats
Easy to clean-hard to beat!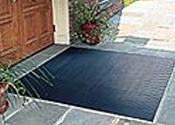 Order Hi-Rib cut to the exact width and length of your recessed well area.
Deep, wide ribs scrape dirt, snow and mud from shoes and trap debris within the grooves.
Corrugated rubber surface provides excellent traction, wet or dry.
Easily maintained by sweeping or hosing.
Specify straight edges for recessed well use. Also available with beveled edges.
Overall thickness: 7/16″. Sized for 3/8″ and 1/2″ deep wells.
---
Anti-Fatigue Mats
Tired back? Sore feet? Cramped legs? One solution: Anti-Fatigue Mats.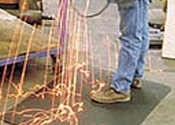 Business owners commonly use anti-fatigue floor mats to support workers who are required to stand for long periods or walk around to complete their tasks. Experts suggest that underfoot matting is a major factor in preventing accidents and injuries due to work induced, bodily strain.
A recent study concluded that workers who stood on anti-fatigue matting during a day's work felt up to 50% less fatigued after a normal eight-hour workday.
83% of the nation's industrial workforce has experienced foot, leg, and lower back problems as a result of fatigue.
After four hours in a standing position, the occurrence of foot, leg, and lower back discomfort increased dramatically.
In a survey of a typical assembly plant work force, leg discomfort, and lower back fatigue were found to be prevalent among workers.
The National Safety Council concluded that the average cost per slip and fall accident was $28,000.
---
Runners
Safeguard your carpet without covering it up. Many options available-from smooth to deck plate.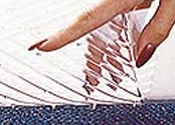 You don't have to hide your carpet to protect it. Our durable, transparent, vinyl runner shields your floor from dirt and debris, while displaying the beauty of your carpet.
Herringbone-pattern surface scrapes dirt from shoes, while adding a touch of elegance.
1/8″ gripper backing firmly holds runner in place.
Thickness: 3/16″.
---
Safety-Step Kitchen Matting
Customized. Comfortable. Carefree. Check out our Industrial and Food Mats.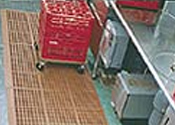 This anti-fatigue, 3′ x 3′ modular mat has a vulcanized rubber surface that will not deteriorate in wet or greasy food service environments.
Drain-through holes filter liquids and waste, keeping the surface clean.
Sections lock securely with a built-in connector on one side. Additional connector strips are available to customize mat sizes and shapes.
Multi-nib backing enhances draining and provides aeration.
Beveled edges and corners available.
Available in grease-proof terra cotta and grease-resistant black.
Overall thickness: 3/4″.